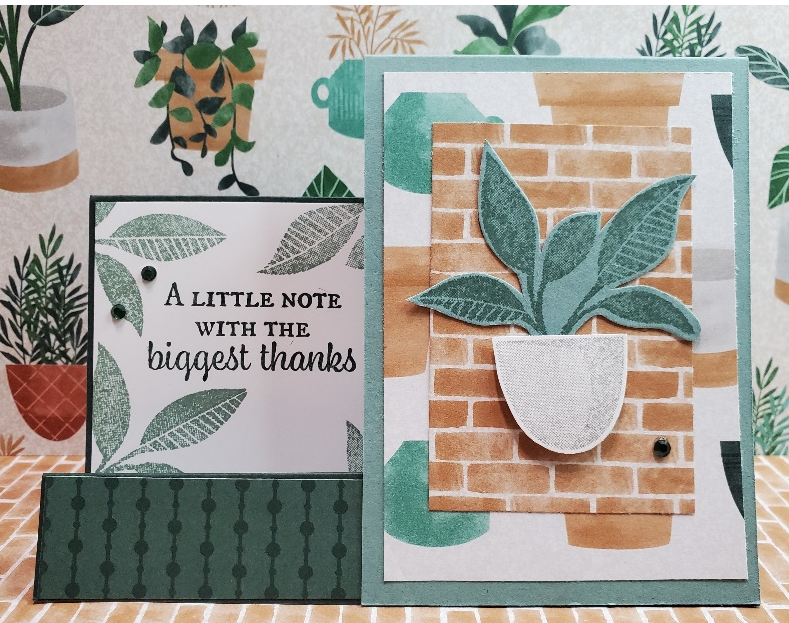 Supplies:
Measurements:
Soft Succulent Cardstock: 5 ½" x 8", score at 3", 6", 7"; 2" x 3", 3" x 6", score at 4 ¼",
Basic White Cardstock: 5 3/8" x 2 7/8", 2" x 2"
In Color DSP (soft succulent print): 7/8" x 5 3/8"
Bloom Where You're Planted (2 patterns/designs): 2 6/8" x 3 7/8" & 2" x 3"(check direction of pattern before cutting)
Instructions:
Fold the Evening Evergreen card base at 3". Fold up at 6", and down at 7". The card will stand up once folded.
Select sentiment & stamp on the Basic White rectangle in Evening Evergreen on the left-hand side. Stamp additional foliage in Soft Succulent around sentiment.
Stamp pot in Smoky Slate on 2" x 2", stamp foliage in Evening Evergreen on Soft Succulent 2" x 3". Die cut foliage and pot.
Adhere In Color DSP strip to 1" area on card base and the white rectangle to 3" section of card base.
Layer Bloom Where You're Planted DSP rectangles onto the 4" section of the Soft Succulent cardstock strip.
Attach the Soft Succulent strip to the 1" section on the card base. Turn card over, press flat, and attach the end of the cardstock strip to back of card base. Flip card over and stand up.
Stick dimensional to the pot, place on small rectangle of DSP. Glue foliage onto DSP, with the stem inside the pot.
Attach rhinestones for some bling!