IT'S THE BEST OFFER IN THE CATALOG !
Happy 35th Anniversary to Stampin' Up!
To celebrate big this month they are giving everyone a choice to SAVE 35% off the Starter kit. (Pay only 64.35 plus tax) and pick out 125.00 in product.
NO SHIPPING
OR
Get 35% MORE for FREE in your kit! Pay the normal 99.00 plus tax but pick out 168.75 in product!
NO SHIPPING
Join October 3rd-31st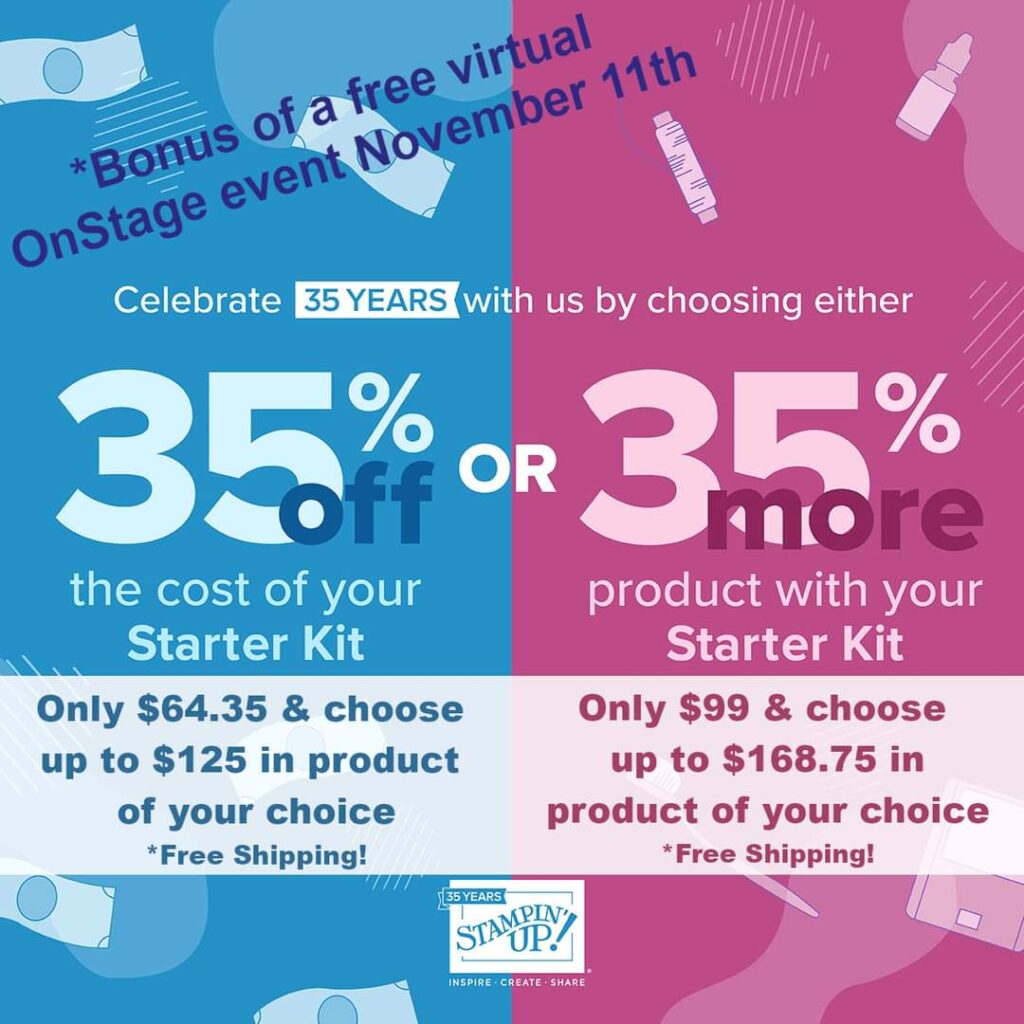 Buy the Starter Kit and Join Stampin' Up today! – Stamping with Lisa (lisastamps.com)
I would love to welcome you to my team!
It's a great deal and its a wonderful time to get started.
You can buy the starter kit and you can choose to be your best customer and purchase for the discounts or you can earn an income if you choose to demonstrate the products at classes and workshops. The opportunity is fully customizable to suit you, everyone is different and has different needs and you can make this opportunity work for you.
So what's the catch?
There are no catches, nothing to pay back.
No risk – no pressure – join the fun now!
And if you DO want to run this as a successful business, then I am here to help you every step of the way. I will offer support, guidance, training, friendship, ideas, inspiration and help, as much or as little as you need.
One of the best perks of being a Stampin' Up! demonstrator is getting to see the new catalog and order from it EARLY!!
To join, all you need to do is complete these quick and simple steps –
Follow the 'Join Now' button
Pick if you want $35 off or 35% more
Join to get more product in the starter kit!!
Click here to join my team
You select your own products for your starter kit.. get started today!