This is a new bundle from the Holiday catalog starting on August 3rd. This card features a fancy fold. I have included a card tutorial so you can enjoy making your own design.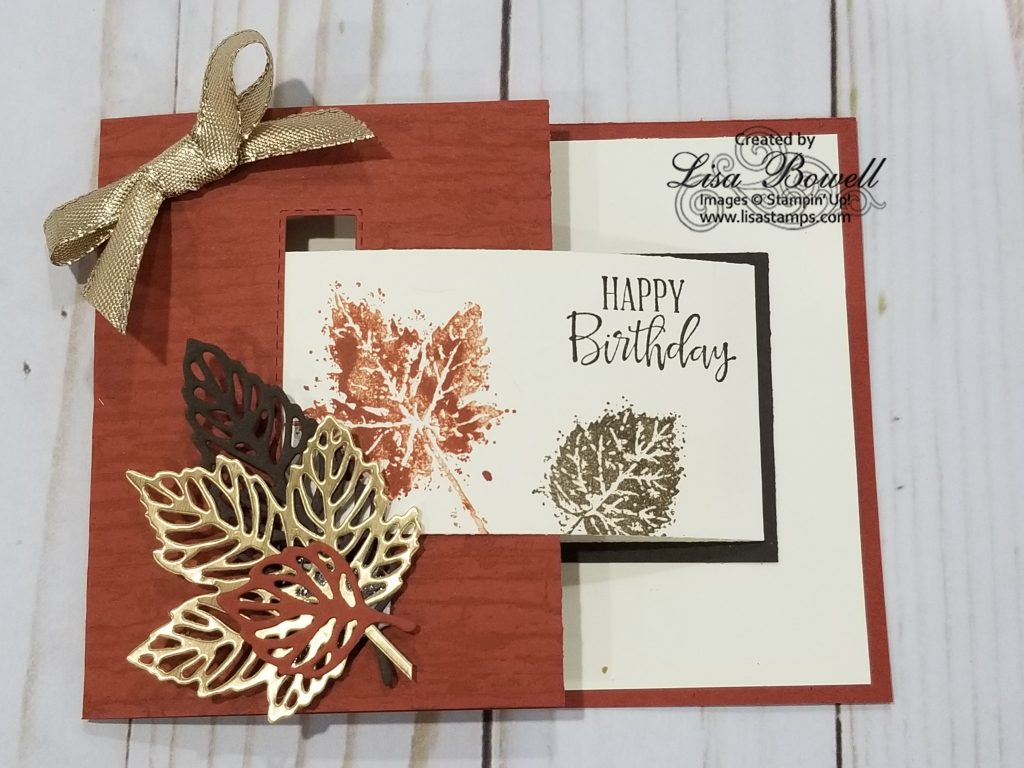 Supplies:
Stamp Set(s): Gorgeous Leaves 153365, Peaceful Moments 151595 , Stacked Stone 152556
Card Stock: Very Vanilla 101650, Cajun Craze 119684, Early Espresso 119686, Soft Suede115318, Brushed Metallic 153534
Stamp Pad(s) and Ink(s): Early Espresso 147114, Cajun Craze 147085, Soft Suede 147115
Dies and Embossing Folder(s):Stitched Rectangle 148551, Intricate Leaves 153566
Embellishments: Shimmer Ribbon156470
Tools: Trimmer 152392, Cut & Emboss Machine149653, Dimensionals 104430
Measurements:
Cajun Craze 4 ¼ x 11, scrap piece
Very Vanilla 5 ¼ x 4, 2 x 7
Early Expresso 3 ¾ x 2 ¼ , scrap piece
Gold Metallic scrap piece
Instructions:
Take the Cajun Craze piece and fold in half and cut off 2 ¼ in. from one end. Stamp the Stacked stone on the smaller piece in Cajun Craze.
Take the smallest rectangle from the rectangle dies and place in the middle of the stamped Stacked Stone image and cut this out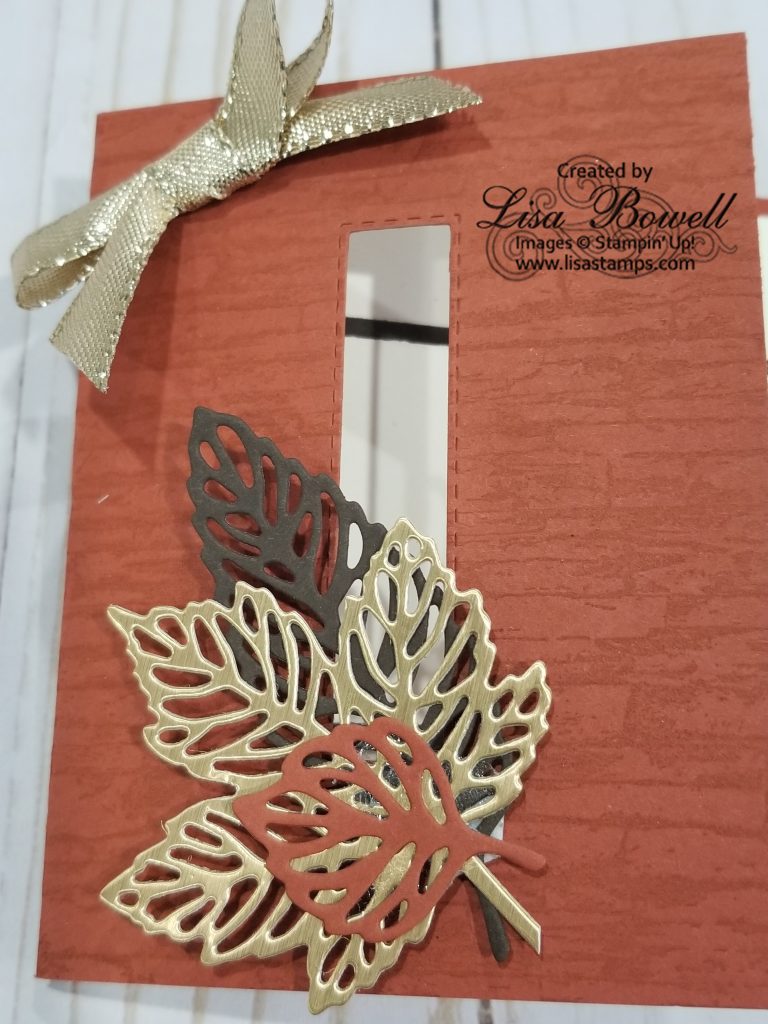 For inside the card attach the biggest vanilla cardstock.
Take the long vanilla cardstock and fold in half and attach this to the Early Espresso piece. Stamp the Happy Birthday greeting and stamp your leaves on the very vanilla cardstock.
Attach this inside the card with the vanilla cardstock opening to the left. Make sure the end of the vanilla cardstock will fit in the opening that you cut out with the die. This will keep your card closed.
Take your scrap cardstock pieces and cut out 3 leaves. Attach these all together and put a dimensional on the back of them . Attach this to the Cajun Craze
Add a bow from the Shimmer ribbon
Product List