June 8 card class –Last day to sign  up June  15th
Place your orders now from the new catalog and the retiring mini catalog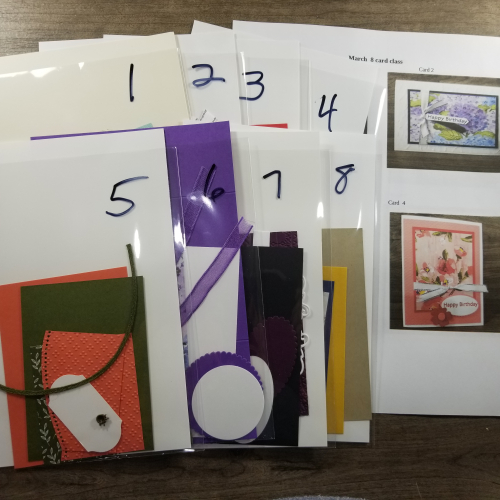 8 CARD CLASS  to go
Space is limited so sign up ASAP
It will be 8 different cards.
These will be cards that you make at home.
You will have pictures of all 8 cards 
The supplies for each card will be in its own numbered bag
You will need a greeting stamp set of your own  to use
All embossing and die cutting will already be done for you
When you sign up for the class you will need to email me to sign up or just place your order using the host code
All orders or class fees need to be to me by the June 15th of the month ( to have a packet made for you)
I will mail the packets out by the 25th of the month
Class fee: $20 includes shipping and handling card packet to you or FREE  with a $30 order
Place your order at www.lisastamps.com
  Use the hostess code  NTEW6DUQ
Email me at www.lisabow@wwt.net to sign up if not placing an order
If you need help placing an order please call me and I can place the order for you.  715-772-4619
You have until June 15th to sign up, payment for class or orders are also due on the 15th. 
Be sure and use the host code so you will get the card packet
I am so excited to bring back the 8 card classes to you, a little different then we are used to but you will love the cards.
Sign up now………….
Lisa Bowell
315 325th st 
Knapp, Wi 54749