I want to share with you a fun card design.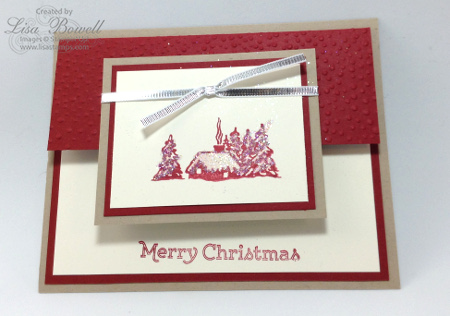 I am going to be using a stamp set from the holiday catalog Cozy Christmas.
1. For the back of the card we're going to use a piece of crumb cake card stock cut 5 1/2 X 4 1/4.
2. The next piece Cherry Cobbler 8 X 5 1/4, fold  this cardstock in half and cut off 2 inches off one side. Emboss the short side with the Gently Falling embossing folder.
3.The next piece of cardstock is Very Vanilla and this is  3 3/4 X 5 I have stamped Merry Christmas from the versatile Christmas stamp set. This the inside piece of the card.
4. Next take a piece of Very Vanilla cardstock 3 x 2 1/4 and stamped from Cozy Christmas in cherry cobbler.
5. Then layer this on a piece of cherry cobbler that is 3 1/4 x 2 1/2
6. Then layer on a piece of Crumb Cake 3 1/2 x 2 3/4 tied a piece of the silver ribbon around it.
7. Then attach that to the top of the card remember to only tape the very top because the bottom of it is going to be touching the base card.
8. Then I've used my fine tip Glue to put some glitter on the card
I hope you enjoyed my card. Just a fun way to do a different style of card.
Have a great day and stay tuned for more Christmas card ideas.

To order of any the items below for this card, click on the item and it will take you to my on line store to place your order.