The stamp I used for the card today. Is just one of those sets that makes you smile. It is just so cute. I had some fun with it.
I also used a Big Shot embossing folder to the back layers. It is so easy to finish a background using the folders. I used the fancy fan one.
Using my markers to color in the fish bowl and I also added some crystal effects for the bubbles.
The Happy Birthday stamp is from the Best of 25 year stamps. It was the January set.
Best of Birthdays  item#132929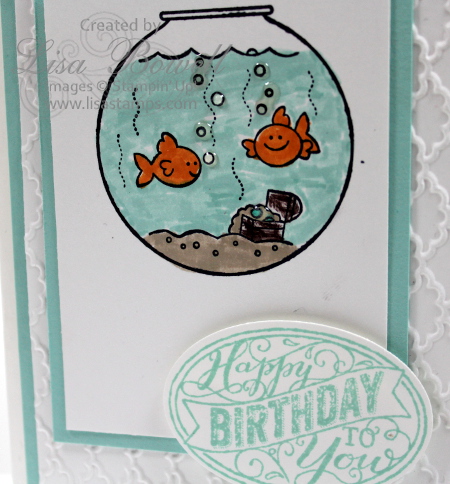 Here is a close of the bubbles using the crystal effects.

Crystal effects can be used as a clear pop up. It also works great to put glitter on it. It does take a bit to dry but looks awesome when it is dry.
This would be a great kids card. It is so fun and colorful.

Hope you enjoyed my card today.
I challenge you to get out that crystals effect and see what you can do with it. It is one of those fun items that we got and haven't used in awhile.
Fishin Around 131118
Crystal Effects 101055
Best of Birthdays 132929.
Remember you still can get all of the Best of 25 Year stamp sets til March 2014
To see all the Best of 25 year stamps , Click on the link on the right side in the Categories.