The cards I enjoy the most to make are the quick/fast cards. It always seems like I am ready to go out the door and need the card now and had forgotten to make one. Does the sound familiar to any of you????
But as I say that I also love the look that is a WOW card. So as they say quick/fast/WOW!!!
The card I have to share with you today I think is just that. It again has the glitter paper on it and I think that just does pop it out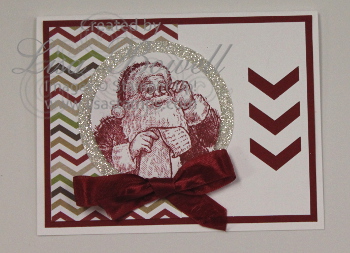 It has the Season of Style Designer paper and I used the chevron punch. That really does add to the card.
Season of Style designer paper 132340
Santa's List Stamp set 131811
Chevron Punch 132154
Cherry Cobbler Seam Binding 120992
Silver Glitter Paper 124005
Cherry Cobbler Cardstock 119685
Cherry Cobbler Stamp pad 126966
Whisper White Cardstock 100730
2 1/2 Circle Punch 120906
3" Circle Die 122125
With all the Christmas card classes I have held in the last few months. It makes me think I need to get started on my own Christmas cards soon.
How are you doing on yours???
I hope I have shared some ideas with you to help you get some ideas or even use the samples I have shared with you.
Good Luck on getting your cards started.
Until tomorrow,
Happy Stamping,