Have you planted your flowers yet? When I made this card it still was too cold to plant so we made these flowers. One of the ladies said these grow alot faster too.
The fun thing is every flower always looks different.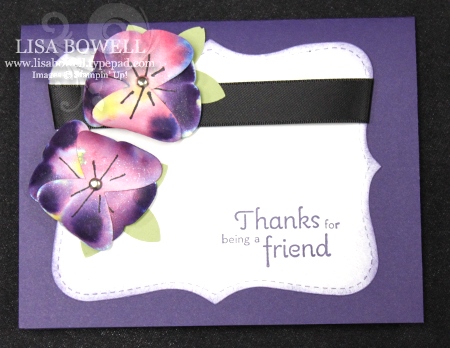 Use the shimmery white cardstock to make your flowers.
Happy Greetings                   Wood mount

123311

Regular Price: $18.95

Clear mount $14.95

 

This six-piece sentiment stamp set will help you create stacks of ready-to-use cards, notes, and gift tags for spur-of-the-moment giving. A versatile addition to your stamp stash!

Set Quantity: 6
Butterfly Punch

119848

Regular Price: $16.95

 

 

Punches are a quick and easy way to add interest, dimension, and color to your cards, tags, and scrapbook pages. You can glue punched shapes directly onto your projects or layer a sheet of card stock that has been punched over a coordinating card stock for a reverse effect.

■ New, sleeker body style
■ Larger surface area offers precise cutting and leverage
■ Locks to store
 

Shimmery White 8-1/2X11 Card Stock

101910

Price

:

$7.95

 

 

Stampin' Up!'s high-quality card stock is dyed with pure color all the way through! Available as an individual color package, you'll love having plenty of your favorite shimmer on hand!

■ 10 sheets per package
■ Both sides shimmer
■ 80 lb. cover weight