With the new Summer mini catalog out, I can't pick my favorite stamp set yet. The set that I'm sharing with you today was not some of my customers favorite but it changed after I showed them this card. I love the color combinations too.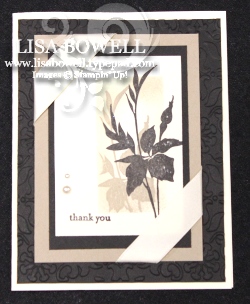 I used the set stamp Fabulous Florets, Teeny Tiny Wishes and I added the pearls for a perfect finish. 

Fabulous Florets – Clear-Mount Stamp

123027

Price: $17.95

Wood mount 123025 $23.95

Create vibrant, lovely floral scapes with this gorgeous six-piece set designed to coordinate with our spectacular Beyond the Garden suite. Versatile images work well with just about any sentiment and beautifully showcase your favorite summer-bright colors.
Teeny Tiny Wishes

115370

Price: $36.95

Wait a minute, did you say 24 stamps in one set–and it's not an alphabet set? Wow! This set includes a greeting for almost every occasion. Don't just buy it, keep it handy, cause you're going to use it a lot!

Set Quantity: 24

Basic Pearls Jewel Accents

119247

Price: $4.95

Jewels are just as magical in papercrafting as in fashion. Add a pearl here, a rhinestone there, and your projects take a subtle step up. With our pearl basic jewels, it's easy to add a touch of class to your projects in an instant.

• Small, self-adhesive pearls
• 150 pearls per package; 50 each of 3 sizes (2 mm, 3 mm, and 5 mm)
• Each package also includes three 2-5/8" strips of connected pearls perfect for borders

To get any of the items for this card click on the shopping cart to shop now from my online store.