What a great week for an Anniversary. Someone at workshop asked me the other how long I had been doing this and I answered 7 years. I t has gone by so fast but as they say time goes by fast when your having fast and it has been great.
One thing I love about Stampin Up is they always listen to what we say. We have asked for clear mount stamps and we got the clear mount block but still with the grat rubber stamps we have all grown to love. Did you know that you can make some of your older stamps mount to the clear blocks? Watch here tomorrow for all the details.
Have you gotten your clear blocks yet?
Todays special : purchase the block bundle that is blocks A – I for $69.95, and receive 2 packs of the clear mount stamp cases for Free, these are on pages 6 & 7 of the Occasions mini catalog. You will need the clear cases after I show you how to mount some of your older stamp sets to use them on the clear mount blocks.
*************************************
The card idea I have for you today is the stamp set Awash with Flowers and this stamp set can only be ordered til April 30th.
Wood mount 117162   $39.95
Clear mount 120549 $27.95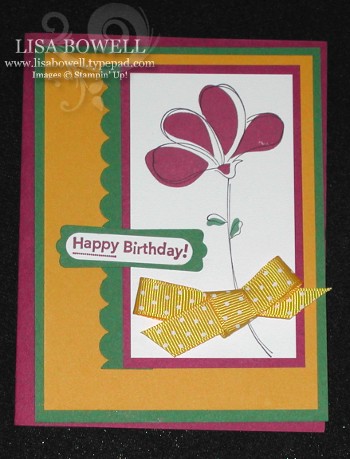 Plus don't forget about the 4 stamp sets you can order til April 30th for 20% off.
Greenhouse Garden
Fifth Avenue Floral
Flower Fancy
Trendy Trees
Have a great day,