With National scrapbooking month coming up we need to start thinking what we are going to do and most important, what we can use.
If you haven't seen me at a workshop or class. I love using the new My Digital Studio. I'm busy but I still want to get my pages done so this is the perfect thing for me. I still get to use my favorite colors and accessories. They are all in My Digital Studio. I even have bows and knots and for some of you, you don't have to tie them. You know I like ribbon.ha ha!! It has soooo much to pick from. Stamps, ribbon, brads, buttons, designer papers, hodge podge hardware,punches and so much more.
You can print out your own projects or get them printed from Stampin' Up's printer and you can get them in about a week. The colors and pictures are so clear. I was so excited when I got my first pages and how wonderful they looked. I got started on more right away.
 Well today you have the chance to get My Digital Studio for $10 off. It is on page 36 of the Occasions catalog. reg price of $79.95. Today only $69.95
This special is good til April 20th 10:00 a.m. On customer orders only.
 Call or email to place your order today.
The next My Digital Studio training is Thursday May 6th 6:30 – 8:30. If you have a laptop you can bring it and we can work on your pages too. RSVP for the class by May 4th.
Now I have some pages to share with you.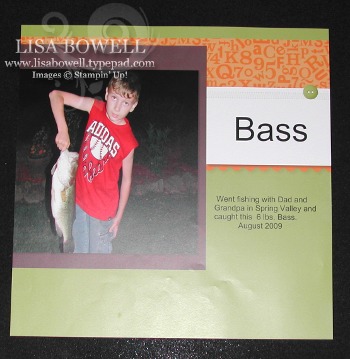 Tanner was so excited to get this fish. I first started with a designer page and just deleted what I didn't want and added some of my own stuff.
Tanner's 2009 crop of giant pumpkins. These are the first pages I have ever gotten done of his pumpkins. Since getting this program I was able to get them done right away. I'm getting more pages done then ever before. 
If you have questions about My Digital studio, please call or email me.