Well things are finally slowing down around here. As some of you know my husband does taxidermy and it gets a little crazy here and also at that time we start putting up our holiday lights. As Kay said the other night, you have a million lights. That made Steve's day to hear that. At our home when putting up the lights, he is known as Clark from Christmas vacation for wanting alot of lights and Steve even calls Tanner, Rusty. We have alot of fun. I will post some pictures soon.
With this time of year we like to make cute boxes and bags to put our treats in. We made this neat snowman box at our last Big Shot Class.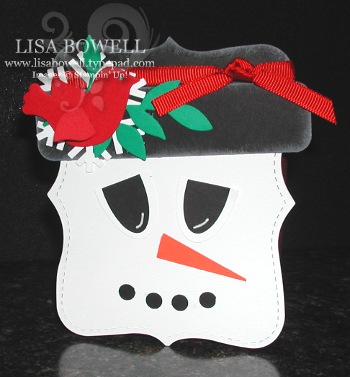 Cardstock:  102851 Basic Black, 102837 Only Orange, 102482 Real Red,101697 Glorius Green,100730 Whisper White
Accessories: 107304 Small Oval, 107305 Large Oval,113439 Big Shot,113463 Top Note,114511 Little Leaves,113485 Birs & Blooms,116628 Jumo Snowflake 109034 Real Red ribbon,105021 White gel pen, 109047 Corner rounder punch, 101610 Stampin Sponges , 101731  White Craft pad
 
To order Stampin' Up products, Click on the Button below to Order Stampin'Up online.